Using the Periodical Source Index (PERSI)
to Track Down Journal Articles
NOTE – With many thanks to a website user, we note that the latest version of PERSI can be found on the site of the Allen County Public Library. This page will be updated in the near future, but for now, explore PERSI at:   
https://www.genealogycenter.info/persi/
If you have access to Findmypast ( available at the Root Cellar for visitors to use) you may have already encountered PERSI in the A-Z index of Record Sets. It falls under their Newspapers, Directories and Social History category of datasets. Findmypast describes it as "a comprehensive index of articles and records in historical, genealogical and ethnic publications." It is compiled on a quarterly basis by the Allen County Public Library in Fort Wayne, Indiana, with these updates being added simultaneously to Findmypast. Currently PERSI contains over 3.1 million fully-searchable entries. And, importantly for us, it is also an invaluable tool for locating articles which have featured in the H&D FHS Journal since its 1987 inception.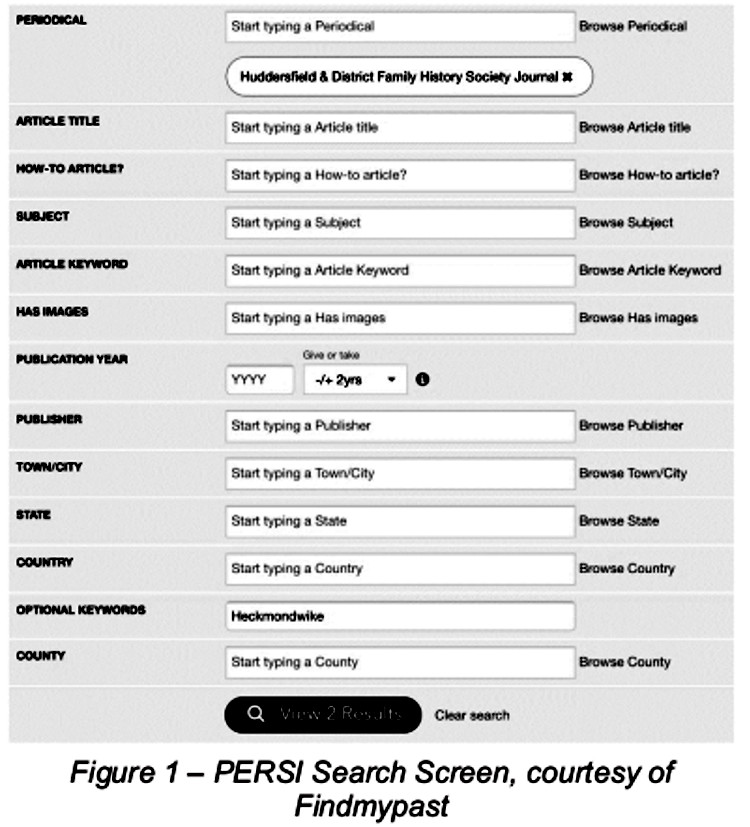 The screenshot at Figure 1 shows a simple Journal search via PERSI for any
Heckmondwike articles. In the 'Periodical' box, either browse through the full range of titles. Or, if you already know the periodical, type in the name and select. Make sure your choice is picked up as selected in the field below. The example shows the 'Huddersfield & District Family History Society Journal' option. In the 'Optional Keywords' box type and indication of what you are looking for e.g. 'Heckmondwike'. Of course, you can narrow
searches down further using the other search box options if you have too many results, or if you know exactly the type and category of article you are seeking.
The next screen lists any articles found and includes information about the Volume, Issue and Year of the Society Journal in which the pieces feature.
Clicking on any of the results brings up a summary screen with additional information. That screen also includes details where the article can be found e.g in the October 2014 edition of the Society Journal (Volume 28,
Issue 1).
Whilst Findmypast is carrying out regular work to provide images of the
articles, this is far from complete. For example, currently, there are no
images of H&D FHS articles. So, you cannot read this article via the
Findmypast website.
However, one of the bonuses of being a member of H&D FHS is you can access all back copies of the Journal online free of charge via the 'Members Area' of the Society website. If you are not familiar with this treasure trove of information, look for 'Members Area' on the Home Page of our Website.
An alternative method for those not online, is to contact H&D FHS and, for a small donation, we will send a copy of the article. This is the only option for those who are not Society members.
---