Root Cellar Volunteers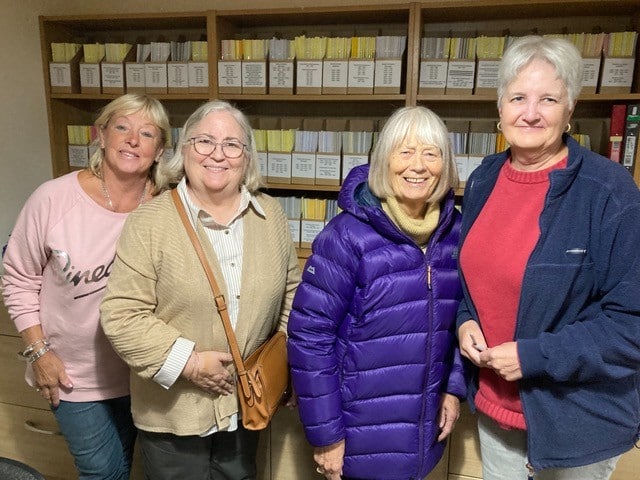 The volunteers who help visitors to the Root Cellar are vital to the way we operate our research room in Meltham. To be a volunteer you need an outgoing disposition and a desire to pass on your family history knowledge and expertise to others. Your knowledge of the local area will be particularly important to visitors who travel from further afield. The photo to the left shows two of our volunteers with two visiting cousins, one from America and one from Shropshire.  Susan Hirst Read and Cynthia Lindley Lucas were interested in their family who came from Castle in Slaithwaite. To quote them from a piece in our Journal, "We found Meltham to be a charming, friendly town and liked it very much.  The area is fortunate, indeed, to have the resource opportunities that the Root Cellar provides".
We need our volunteers to have experience in using at least one of the main subscription websites – Ancestry or FindmyPast. Both are available for use on our PCs at the Root Cellar. We understand that you may not have used both regularly, and the one you are not familiar with can be learnt over time with help and advice from other Society volunteers.
Our volunteers should also be happy to promote what we do in terms of the events we hold as well as being comfortable selling our transcriptions, books and membership to those who are interested. You will be trained in how to use our till.
For anyone with a love of family history it can be particularly rewarding, helping others to trace their ancestors or to break down a brick wall. If you are interested in helping at the Root Cellar, please use the Contact Form button, below.