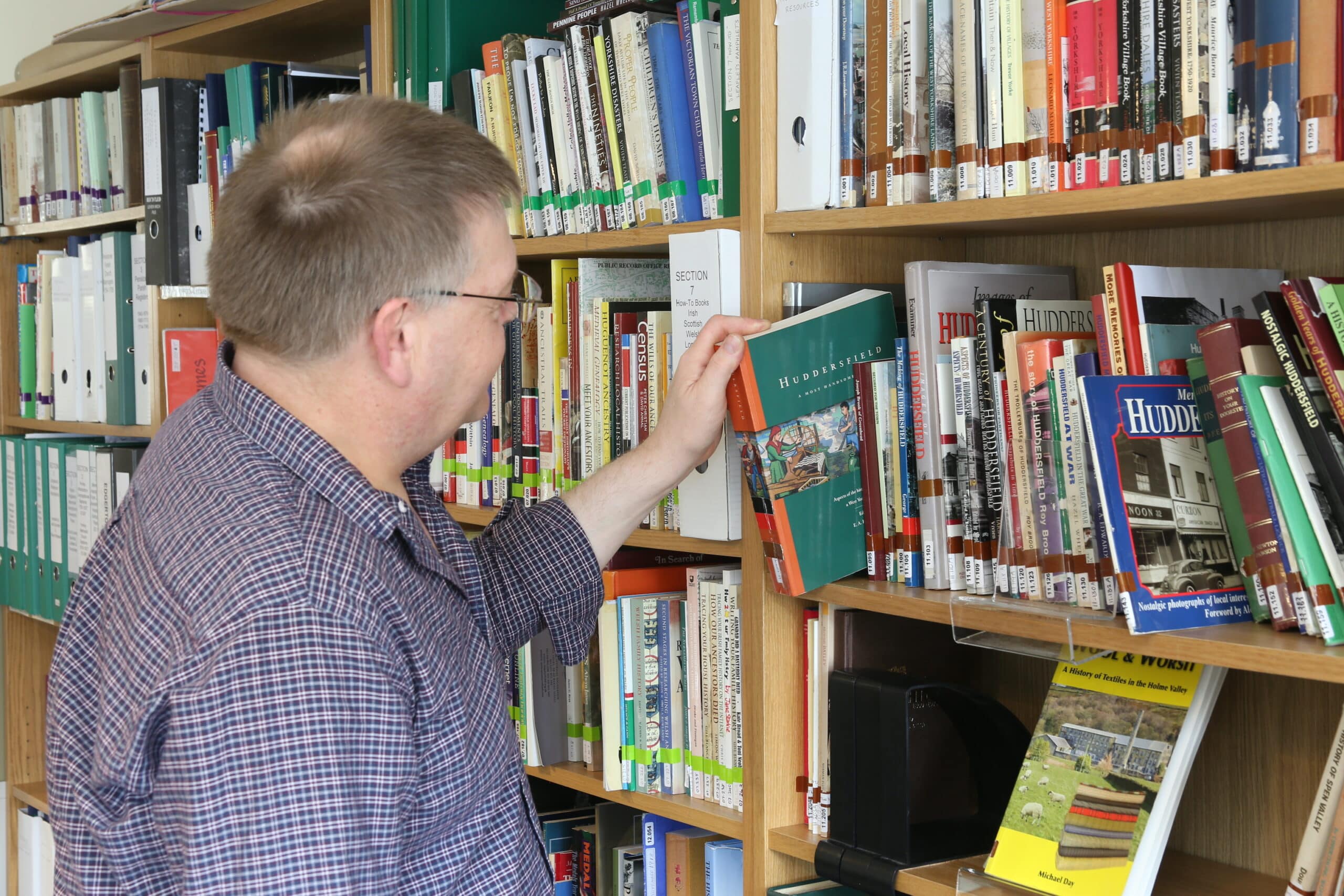 The Library Resources
The library holds an extensive stock of donated and purchased resources on family history topics, with both lending and reference materials. If you need to dig deeper into the background of the lives of your ancestors, we may be able to help.The contents are classified in a number of sections: Parish Registers, Research Directories, Miscellaneous Records, Record Offices & Archives, How to books, Pedigrees and Family Trees, General, Church Histories, History of Places, Military, Reference Volumes and Maps and Non-Conformist Registers.
 Reference Materials
The Library contains many resources that may only be used at The Root Cellar. Amongst these are a large number of Pedigrees and Family Trees (many of which have been donated), large maps, and a number of books that, due to their age and rarity, can only be viewed on the premises. If you are travelling to view these items, it may be advisable to contact the Root Cellar in advance to check availability. These older volumes can provide a unique insight into the history of the area, many of which have been written in the Nineteenth Century by local people. These items can be found in the 'Special Reference' section of the catalogue.
The Librarian will advise if selected sections can be copied and sent by post or email. (Copyright permitting) 
Exchange Journals
We exchange journals with other Societies both in the UK and abroad. If you are researching other localities, it may be worthwhile consulting our exchange journals, which may be borrowed by arrangement. Note that some exchange journals are available through the Members' area of this website.
Borrowing Resources for Society Members
Members may borrow resources in person for up to four weeks and by post for up to six weeks.
Postal Loans
Materials may be requested by using the form below. Requests may also be made by phone or post to the Root Cellar. Borrowers are asked to pay the return postage for materials and will be advised of costs when the loan is requested. A PayPal Invoice will be generated for this payment or the payment may be paid by cheque (in pounds sterling at a UK bank).
Look up Service, for Members & Non Members
The society offers a Library look up service, available for those who may not be able to use the Library loan service. Charges for this service are the same as the Society Research Service. Please use the form below to contact the Librarian with details of your request.
Other Resources
The Root Cellar contains other resources invaluable for research including microfiche, film and CDs.
Many Kirklees parish registers (both Church of England and Non-conformist)
Hard copies of Kirklees Censuses by area for 1841 and 1851